connectFirst Wealth Advisors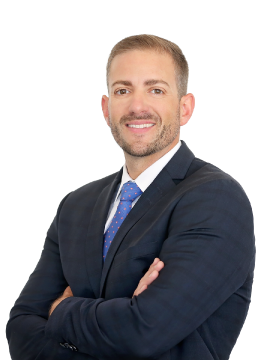 Nathan Amor
Private Wealth Advisor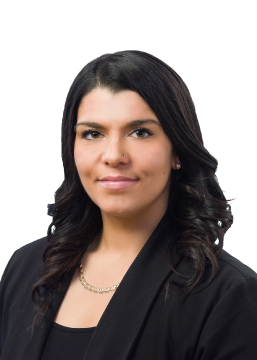 Christina Carter
Private Wealth Advisor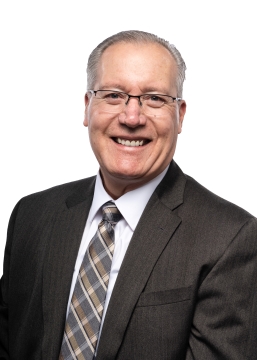 Dan Galvin
Private Wealth Advisor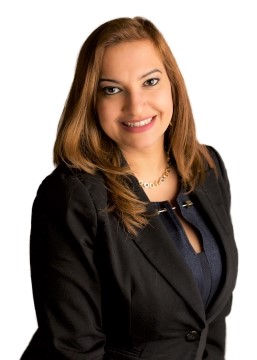 Verginia Ghobrial-Said
Private Wealth Advisor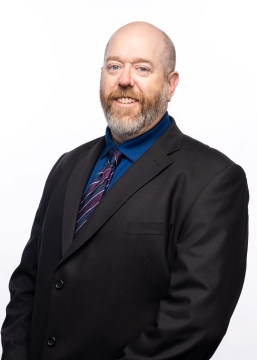 Chris Hareuther
Private Wealth Advisor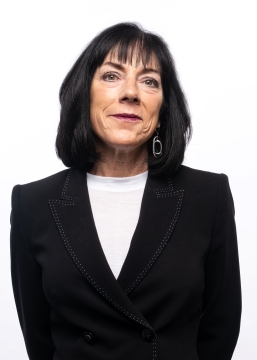 Karen Kerr
Private Wealth Advisor
Corinne Lutz
Private Wealth Advisor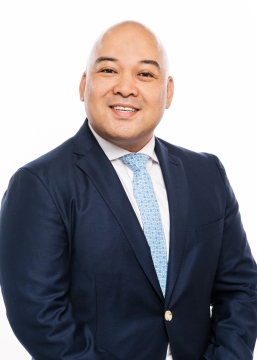 Christopher Matugas
Private Wealth Advisor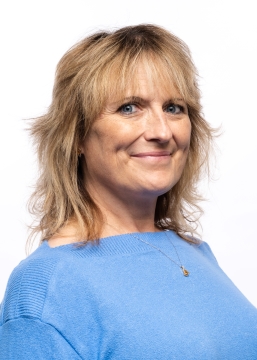 Susanne McDuff
Private Wealth Advisor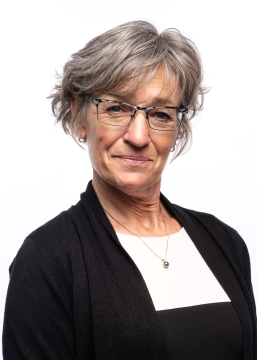 Karen McMillan
Private Wealth Advisor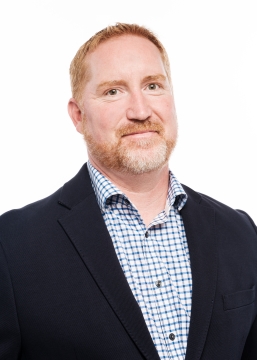 Warren Nielsen
Private Wealth Advisor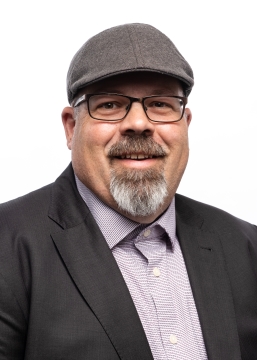 Philip Viger
Wealth Protection Specialist
"I want to help Albertans grow any way I can," says Nathan. 
Nathan has been helping Albertan's accumulate, protect, and manage their assets for more 16 years. 
He's received numerous awards and titles throughout his career, including Wealth Professional Magazine's Wholesaler of the year, but nothing is as rewarding to him as mentoring – whether it's mentoring members with their finances or mentoring members of his team. 
"I really do enjoy when I can actually help somebody, provide them with advice, and then watch them be successful from it," he says. 
"It's hugely rewarding when somebody comes to you, and their financial situation is just the dog's breakfast, and you get to clean it up and tell them they have enough to retire," he explains. 
"Just to watch that calm come over somebody is the most rewarding feeling." 
When Nathan's not giving financial advice, he's giving fitness advice. He owns two F-45 fitness studios in the city. 
He's a busy man, but Nathan always makes time for family and travel, with an upcoming trip to Columbia to look forward to.  
"I really enjoy spending time with my family and family get togethers," he says. "That's when I'm happiest, spending time with my family and loved ones." 
Christina is a Chartered Investment Manager; she has passed level 1 of the CFA Charter exams and has worked with top Canadian asset management firms for the last decade.
Christina was drawn to connectFirst Wealth because of the vast opportunity and the chance to work with a team that captures the spirit of entrepreneurship. "I am genuinely excited to go to work! The opportunity to work with our members to achieve their financial goals, combined with the culture at connectFirst, is incredibly energizing" she says.
Christina is an advocate for financial literacy and reducing the complexities associated with finance and investing. "I have learned through my career that the entire arena of finance is unfortunately designed to be confusing, even for sophisticated investors. The complexity of investments, industry jargon and trends, can all be large barriers to success for investors. It is important to work with an Advisor who is focused on reducing complexity and increasing understanding when it comes to financial planning and investing, whatever your level of knowledge."
Christina's wealth of investing knowledge helps her quickly build trust with her clients and makes them feel at ease. "It is a privilege to be able to know my clients' hopes and dreams, how they define financial success, and ultimately what it means for them to live a good life – that is incredibly special. To know that I can help them accomplish these goals through financial education, planning, and investing, is incredibly rewarding," she says. Christina achieves success with her clients by using a personalized approach to financial planning, combined with a process driven approach to investing, that is replicable and transparent.
When Christina isn't helping members achieve and exceed their financial goals and dreams, she's an avid gym goer – she has been powerlifting for more than five years. She also spends as much time as she can travelling to new destinations, being active outdoors, and with her friends, family, her fiancée, Paul, and her dachshund, Coco. 
Dan has worked in finances his entire 24-year career. A lot has changed over the past quarter century, but one thing that remains the same is how rewarding it is for him to help members achieve financial security. 
"Just witnessing the relief in their faces when you when you tell them that there will be enough income for them to meet their retirement income goals, for as long as they live - that's the most satisfying part of the job," he says. 
When Dan meets with members, he goes out of his way to make them feel that no one else is more important and that he is committed to helping them make their financial dreams come true.  
"I want them to feel like I'll do my utmost to ensure that they achieve whatever their individual goals are," he says. 
Outside of work, you can find Dan reading, playing golf, at his favourite vacation spot, Maui, or watching NFL games and cheering on his team, the Arizona Cardinals. 
Born in Egypt before moving to Dubai for a short while, and then to Calgary in 2010, Verginia has become a true Calgary advocate. During her time in Egypt, Verginia attended University where she obtained her bachelor in commerce majoring in business administration and finance. She then went on to work in many different financial roles varying from private and retail banking, to investment and stock market trading.
Since joining the connectFirst family at the end of September 2021, Verginia has felt nothing but pride to be where she is today. "I love the environment at connectFirst. I've worked in many different places, but how I feel here is different," she says. "It's so nice seeing so many women in leadership roles here and it truly makes me proud to be part of the connectFirst family."
Outside of work, Verginia loves spending time with her husband and 5 year old son. "We're also looking to add a puppy to our family in the near future. Maybe a Labradoodle or Goldendoodle, but it's so hard to choose between the two." Besides family time, you can also see Verginia taking on many different interior design and renovation projects. "I'm always on some renovation project of some sort at my house, or at my parent's house because they let me do it there too!" says Verginia. "I also really love cooking and going on hikes. I have a hobby that suites all of the seasons we get here in Calgary," Verginia laughs.
Although Verginia has only been with connectFirst for a short while, she's been in the financial industry for over 18 years. "My expertise in this industry is definitely financial planning. I love looking at my clients life from a holistic approach and trying to understand them from every corner. Things get deeper with a financial plan." Claims Verginia. "It's so important that clients are open and honest with their advisor because we are here for you and here with you."
Everyone should consider banking with a credit union, especially here at connectFirst. "It's member focused, and it's Alberta focused — it's about you because we are you, we are all members here… it's that simple. What we stand for is special and it's what we work for every day."
"I read The Wealthy Barber in grade 11 and it really locked in the idea that I wanted to be a financial planner." Chris now has been helping his clients in the financial industry for 17 years — all of those being within the credit union system and the last 11 having been with connectFirst.
"The thing that attracted me to the credit union system is the entrepreneurial attitude that the wealth team is given. We are members of a but I have always been empowered by the people I work with to build my business and take care of my clients and support them however works best for my clients," says Chris. "I think that's an attitude that you don't get at any of the larger financial institutions where they have their way of doing it and it's the only way and everyone has to conform to that system. As a credit union we've been given control to treat our members much better than that, and that appeals to me."
Chris grew up in Prince Albert, Saskatchewan, but currently resides in Carstairs, Alberta. In between there, he moved to Saskatoon where he attended university to obtain his Bachelor of Arts in English Literature. From there, he moved to Korea to teach English for a while in which he added, "there's only really three things you can do with an English Degree, you can flip burgers, work at a bank, or move to a foreign country to teach English. I knew that flipping burgers wasn't for me, so I decided to move to Korea to teach English, and then jumped over to working at a bank after that!".
When Chris isn't working, you can see him spending time with his wife Tanya, his three kids Holden, Willow and Cole and their two dogs Birch, and Oak. "We do a ton of camping. We camp probably 45-50 nights per year every year," says Chris. Some of the spots you'll find them camping would be anywhere from Cypress Hills, to the mountains, to some of the lakes and rivers in Alberta. "Being from Northern Saskatchewan, some of the lakes up there in the Canadian Sheild are amazing and any opportunity we get to go spend some time up there, we take full advantage of it."
One of Chris' best skills is his ability to really listen to his clients with an open mind and being sure not to pre-judge or assume he knows what solution is going to work for them or that he understands what they're going through. "Listening to all the little the details of a clients specific situation is so important so that I can help build a solution that really works for them," he claims. "I think it's so important that you work with an advisor that you absolutely enjoy working with, and that you're comfortable being honest with. If you're going through hard times and you don't feel comfortable sharing that with your advisor, your advisor can't possibly give good advice for your situation."

"When we say 'bank where you belong', we mean it. I believe our members do feel like they belong here and that when they walk in to a branch or they phone in, they feel important to us and that they are truly valued." 
Karen went to University in Saskatchewan where she obtained an honors in Sociology. "I had no inclination that working in finance is what I would do for a profession, I thought I wanted to be a social worker," Says Karen. "At the time, I was referred to an insurance and investment company and during the interview process, I started to realize that this is something I would really enjoy doing." Karen has now been in the financial industry for an impressive 28 years. Three of those being with connectFirst.
Now in Karen's role as a Private Wealth Advisor she really thrives at holistic financial planning including client retirement analysis, asset allocation, and where and how they invest their money. "Money is emotional and it has so much energy attached to it," says Karen. "There can also be a lot of fear around money so to bring peace of mind and comfort to people means a lot to me. I feel very blessed that I am able to work with people in such a personal way and that they trust me."
There are many differences between credit union's and other financial intuitions and Karen believes that. "At connectFirst we're local, and we're very member focused. I've always said I can go up against the big banks and that we have everything to offer. I believe we can truly make a difference — we answer to our members whereas the big banks answer to their shareholders."
Outside of work, Karen spends a lot of her time with her miniature schnauzer, Champ. "He brings be such great joy," she says about her dog. "I also love to exercise, cook, and write but most of all I love theater and music." Karen's been to many shows, with her favourites being Jesus Christ Superstar, Sarah Briteman and Celine Dion.

"It's more than just numbers. There's an art in financial planning that involves taking all the information that people give you and synthesizing it into something that's meaningful to them."
Corinne thrives at helping people understand the value of a good financial plan. "I'm good with helping people take complex and hard to understand pieces and presenting them in a simple way that's meaningful," she says.
As soon as Corinne started her career in the financial industry as a teller on the front line at Mountain View Credit Union, one of connectFirst's legacy brands, she knew right away that she was going to be a financial planner. "I was one of the first 8 people to get a mutual fund license at Mountain View," she states proudly.
Corinne left Mountain view for a short time to expand her knowledge of the industry at a financial planning firm, but came back to the credit union in July 2010. "Having the opportunity to work at companies outside of the credit union system, I fully understood what the credit union advantage was. It's collaboration. It's that we truly work together for the benefit of the member. In other places you're working near other people, but you aren't working with other people to make sure you're doing the right thing for the client," claims Corinne.
Having grown up in the Olds area her whole life, Corinne loves to get away by traveling to different theme parks with her husband and three children. "I'm most happy when I'm with my family especially if it's at a theme park. It's that concentrated family time when you don't need to share them with anyone."
At home when the weather is nice, she likes to be outdoors doing a little bit of gardening but during the winter months she stands on the sidelines while her family cheers on the Calgary Flames, and jokes "if Disney and Universal had teams, only then would I be a hockey fan!"

"You have a say at a credit union. A customer at a bank vs. a member at a credit union are two different things. Being a member is not just a pronoun, it's actually in how we deal with you as a person and deal with your financial services. It is caring about how our other co-owners of the financial institution will succeed financially."
Chris' 20-year career in finances began right out of University, but his journey with connectFirst began just over 2 years ago. He knew that the financial industry was for him when he realized how it could impact those around him — he wanted to help.
"Financial literacy isn't properly taught in school and I felt that it was a great career to educate others on how to invest and plan their finances for themselves," says Chris.
Having attended Humber College and York University in Toronto, as well as the University of Windsor, Chris has obtained designations in Bachelor of Arts, Bachelor of Education, Personal Financial Planning, and Responsible Investment Specialist. Ho­­­wever, he isn't ready to stop his education there as he is currently working to obtain his designations in Canadian Investment Management and the Fellow of Canadian Securities Institute as well.
When Chris isn't helping Albertan's with their finances, he enjoys spending time with his wife of 15 years, Jennifer, his 8-year old son CJ and his dog Spice, who they recently adopted. You can also catch him watching or even playing sports such as basketball and boxing and always cheering loudly for his favorite Canadian team, the Toronto Raptors.
Chris really shines when having conversations around retirement, whether that be for pre-retirees or those already enjoying it. He understands that taking that next step to transition your finances can be a little bit scary for some and he wants to make the experience as comfortable as possible by making sure his members fully understand what it entails. "We really do go out of our way to help our members here", states Chris.
Having been nominated twice as a finalist for the Wealth Professional Awards as a rising star in private wealth for investment advisors across Canada, you can feel confident in knowing that your finances will be in good hands with Chris. "If I could give one tip to anyone it would be to live within your means and don't compare yourself to anyone else," Chris says. He understands that every one's situation is unique and needs to be treated as such.
"connectFirst is a place where people can bank where they belong. We have an advanced suite of full service banking that everyone can access and everyone should access."

The member service Susanne brings on top of her expertise in financial planning is incomparable. "I look after my members, I strive for comfort, understanding, and connectivity above all else," says Susanne.
From Southern Manitoba to Drumheller, including stops in Loydminister and Neilburg along the way, Susanne has racked up an impressive 30 years of experience in the financial industry, 25 of those with credit unions. "I'm so gratified by my credit union career, it's accommodated every bit of growth and specialty that I've wanted to develop to offer my members, and it continues to do so," claims Susanne.
Susanne has many accomplishments to be proud of that compliment her career as a Private Wealth Advisor. Among them, Certified Financial Planner, Registered Retirement Consultant, and Responsible Investment Specialist Designations, along with fellowship and associate degrees with the credit union system. Susanne graduated from the University of Manitoba with a Bachelor of Arts in Psychology with minors in Sociology and Philosophy. She's also fully bilingual in both official languages, one more plume in Susanne's chapeau.
Finance is a huge part of Susanne's life – it's an ever-evolving industry, so it helps that she's committed to continuing education for herself, and she promotes it to others at every opportunity. In Susanne's down time, she loves to spend quality time with her husband, two children and their families. "If I had to pick one of my favourite places to be, it would truly be anywhere with my granddaughters," says Susanne.
Having been with connectFirst for 7 years now, Susanne emanates pride when talking about the values and what it means to be a member here. "We know you by name, we're local, and we support the community. It's about living in the same community as my clients and understanding where they come from."

Almost 2 decades ago, Karen chose a career in investments and financial planning for a new challenge with "relative" rewards.
"Coming from an entrepreneurial background, my financial success has always been directly related to my effort. In searching for a new career, I wanted unlimited freedom so that my performance at work every day would make a difference to people's lives -  and my paycheck" she says. Karen is a Certified Production Accountant and has now been in the Investment industry for 20 years working first with Hussar Credit Union, then Chinook, and now connectFirst.
When it comes down to it, what means the most to Karen having a good relationship with her clients. "My expertise would definitely be in listening, engaging and offering the appropriate solutions to my clients, she says. "If you connect with someone it doesn't matter where they're from or where they work, as long as the relationship you build with them includes trust and open communication," she says.
Karen's strong values really embody connectFirst's mission of doing what's right for every member and that's why we love having her on our team.
Outside of work, Karen is all about staying active. She does it all; from cycling and swimming to running and skiing, including participating in triathlons here and there. "I love keeping physically fit, it's definitely my wheelhouse," she says. "I've also volunteered my whole life," states Karen, telling us about her experience as a board member for the Half Marathon Community in Drumheller.
Karen also possesses strong communication skills such as writing and interviewing that she acquired during radio broadcasting courses. "Learning how to write is a very valuable tool," she claims. We know that this is one of the main reasons that Karen's clients are so engaged with her because she is incredible at communicating her advice with clarity and ease.

Warren makes things easy for his clients by having the ability to explain things at whatever level necessary depending on where the client's knowledge or comfort level is. "Our industry is notorious for having a lot of acronyms, lingo and concepts that can be common knowledge to us advisors and people sometimes just assume that everyone should understand it, yet that's not reality," he claims. "If someone has a better comfort level and understanding, they're more likely to follow through with the advice."
One of the quotes Warren loves to tell his clients is "you can always pay now and play later, or play now and pay later". "You definitely want to have a healthy balance of both, but you need to get started sooner than later. Whatever you can save now, get into a good habit with it and you'll reap the rewards later."
Warren has an incredible 22 years of experience in the financial industry and has been with connect first since 2007. "I think people should deal with a credit union only if it's aligned with their values, but I think it would be hard to find people that the credit union values don't align with," says Warren. "We're looking out for the best interest of our members first and our organization second, which I don't think is the case in many other FIs."
Warren met his beautiful wife at the University of Lethbridge where he obtained his bachelors degree in management, majoring in finance. Together they now live in Strathmore, Alberta with their two daughters and their dog, Quigly.
Outside of work, Warren enjoys doing woodworking in his garage where he builds rustic furniture to give as gifts to friends and family, or you can also find him cheering on some of his favorite Calgary sports teams, the Calgary Flames and the Stampeders. "My one daughter plays ringette, and my older daughter used to be in cheerleading. So when my girls are or were competing those are definitely the most fun sports to watch and my favorite teams to cheer for."

Phil is definitely a jack of all trades, having worked in multiple industries and enjoying many different hobbies outside of work.
Graduating from college with a certificate of collegiate studies for IT support, Phil spent 20 years of his life thriving in the Information Technology field until deciding to switch to working in the insurance industry in 2008. "I got into the finance and insurance realm because of some really tough situations that happened with my family. I didn't want that sort of thing ever happening again or happening to anyone else so I started on this journey to help people understand the importance of it," says Phil. "It's my job to talk to you about life insurance. Don't make it my job to tell your family you didn't have any."
Phil started at connectFirst in 2014 as a coordinator for a Private Wealth Advisor until he took his studies to become a Life License Advisor. He now thrives in his role as a Wealth Protection Specialist where he helps his clients understand the importance of insurance, like life, critical illness, long term care insurance and more.
In his spare time, Phil is an avid musician and has been playing the drums since he was 6-years old. Though he doesn't play as much anymore, he's been expanding his hobby of music over the last few years by taking vocal lessons.
Music isn't the only thing Phil loves, he also enjoys watching hockey — being a diehard Montreal Canadiens fan, as well as listening to radio. You'll often hear him listening to old radio broadcasts from the 60s, 70s and 80s and he even worked in radio in North Western Ontario for a little while in the evenings and weekends.

Phil now lives in Strathmore after he and his wife moved there in 2004. "She's a little bit country and I'm a little bit rock and roll," laughs Phil. "That's why we decided Strathmore would be perfect for us because it's a small town close to the city." There his wife, three children, and their Bichon Shih Tzu, Lucee live happily day-to-day.
Since starting work at the conenctFirst Credit Union branch in Strathmore, Phil says he feels a part of a whole when walking through the doors. "We're a team. I'm not just one individual that's offering one thing because we're all part of a community."

"Working at a credit union for me has always been about community. You're not being looked after by a bunch of shareholders, you're being looked after by another member of your community.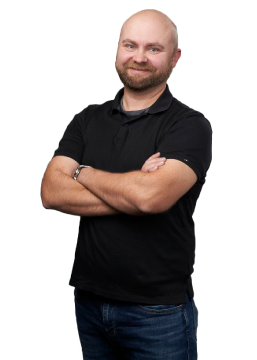 Mike Biernacki
Senior Agriculture Advisor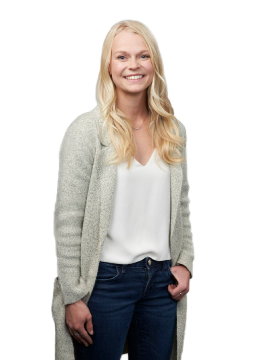 Erin Drydyk
Agriculture Advisor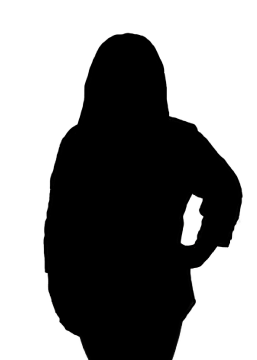 Aline Dupuis
Agriculture Advisor I
Dallas Haldorson
Senior Agriculture Advisor
Chris Herrmann
Senior Agriculture Advisor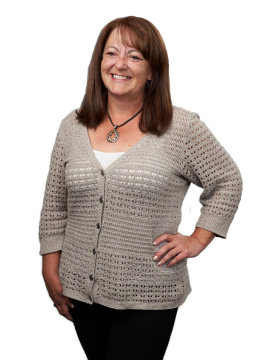 Alayne Jackson
Agriculture Advisor I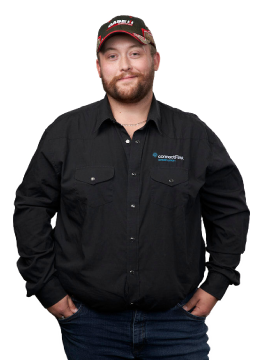 Turner McKay
Senior Agriculture Advisor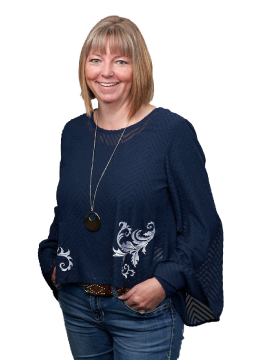 Kelly Richardson
Agriculture Advisor I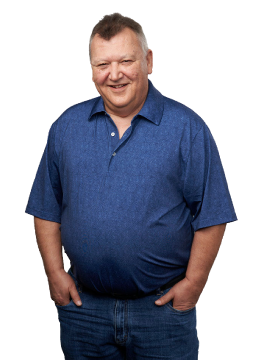 Ernie Shmyr
Agriculture Advisor I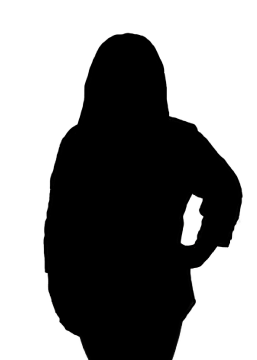 Lana Wiest
Agriculture Advisor I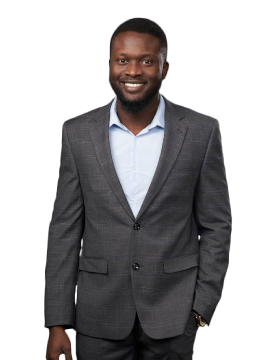 Edward Ademoroti
Independent Business Advisor II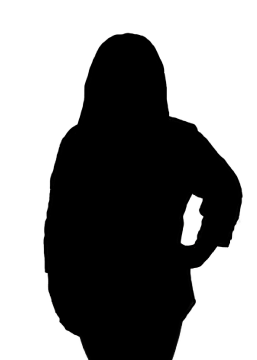 Anzela Aleksejev
Senior Independent Business Advisor
Joel Chisholm
Independent Business Advisor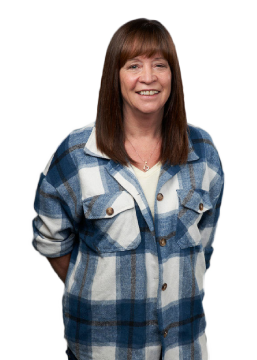 Brenda DeMille
Independent Business Advisor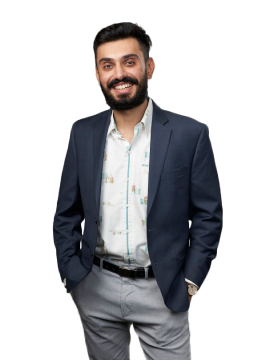 Zubin Doodha
Independent Business Advisor II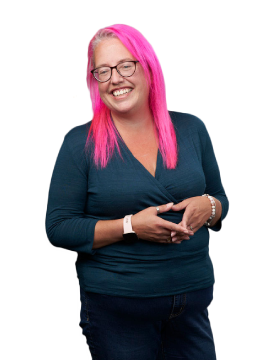 Jennifer Duncan
Independent Business Advisor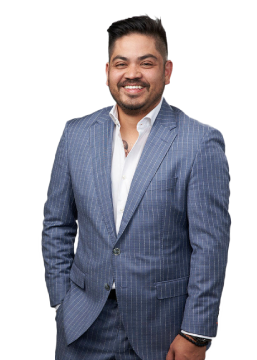 Ferdinand Flinsch
Independent Business Advisor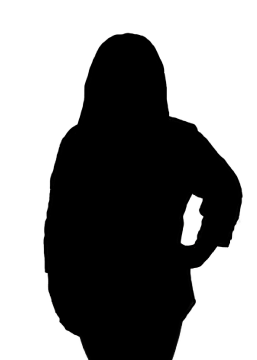 Krystal Green
Independent Business Advisor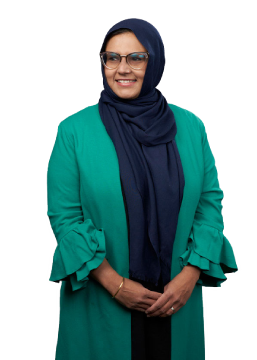 Anika Khan
Independent Business Advisor I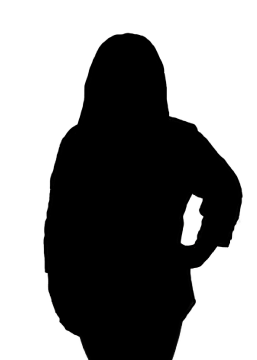 Sheila Lalonde
Senior Independent Business Advisor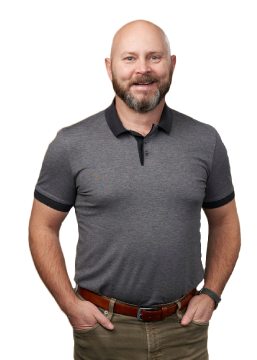 Dale Locken
Independent Business Advisor II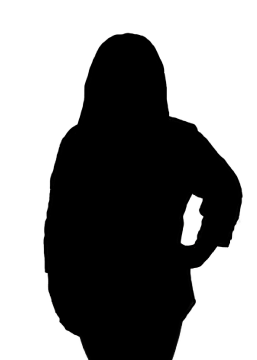 Victoria Lodon
Senior Independent Business Advisor
Kris Mathers
Senior Independent Business Advisor
Barry Patriquin
Senior Independent Business Advisor
Darrell White
Independent Business Advisor
Solutions, solutions, solutions! That's what Edward brings to the businesses he advises at connectFirst.  
Born in Nigeria, before moving to the United Kingdom and then Alberta, Edward has been with connectFirst for two years. 
Edward helps Alberta businesses grow, and works with them to determine what their next steps are.  
He sees the businesses he works with as partners. They work together and he advocates for them and is determined to provide them with the solutions they need, even if he need to get creative. "We want to help them, and sometimes the answer isn't as simple as saying "okay, you have a lot of money, so we can help you,"  he says.  
"Sometimes you have to get creative and that's the part connectFirst is really good at - working with the members and saying "okay, this might not work, but here's what we can do." Nine times out of 10, we'll find a way to help you, even if it's not exactly what you came to us with." 
Edward goes out of his way to build relationships with members and make them feel comfortable. Not only to build trust, but to provide him with a full picture of who his members are and to identify their needs. "I don't want it to feel like you're talking to a bank," he says of meeting with his members.  
"I want them to feel very comfortable. I prefer it to be more relaxed, and to get to know them before jumping into business because when a business comes to us and asks for lending, we have to convince the credit manager to lend them money. It helps to be able to understand the member and put myself in the members' shoes and say "this is why these guys should get the money."  
It's not all work, no play for Edward. When he's not helping Alberta businesses, his biggest hobbies are investing and basketball. "I do like to research stocks by myself and hopefully grow it, and I do like playing basketball," he says. His team is the Lakers, but he jokes that he's only a bandwagon fan. One team he's not a bandwagon fan of is soccer team, Manchester United.  
Edward is competitive outside of sports too. He says one of his greatest motivators is the feeling of "accomplishing something that I didn't think I would."  "I always try to find new challenges. When I accomplish them, I give myself a pat in the back, he laughs. 
Anzela has a zest for life and building relationships.
"Anytime you look within your life - anything you do in your life, it's based on relationships," she says.
Trust and respect are the foundation of the relationships Anzela builds with her members.
"The way you build every relationship is trust," she says.
"Building trust brings you to a point where members can be open about their problems and you can work together to be proactive and help them."
"That's when I go to bed happy," she laughs.
Anzela has been helping members in the credit union system for 15 years. But she wasn't always in the financial industry. She earned degrees in robotics, computer science and business before entering the world of finances.
"Why finances? I could provide service and help people. I could solve problems," she says.
"I love the people element, the human element, and I am wicked was numbers," she adds.
When Anzela isn't helping members bring their dreams to life, she enjoys vacationing in her hometown of Tallinn, Estonia. She also has an artistic side and enjoys painting, and working with metals and stained glass.
Anzela truly lives life to fullest, both in her role and outside of work.
"I think life always offers you something so interesting," she says.
"I just want to take whatever life throws at me, and just grab it and run."
'Yes' is a powerful word, especially when it comes to helping members achieve their financial dreams. It's a word Joel likes to say as often as possible to members.
"We always hear the word 'no' when it comes to finances, especially on the business side of things. So, it's rewarding when I can speak with the member say 'yes, we can help you," he says.
"That's what gets me going and makes me excited."
Joel describes his role as the quarterback of connectFirst.
"I'm a true relationship person. I connect with our members, connect with our support staff within the  credit Union, and help members achieve their financial goals with their business," he says.
"They're coming to us, seeking advice, and we provide them advice - whether it's their credit, or their bank accounts, or their personal. We're kind of the quarterback, so to speak."
Saying 'yes' makes the relationship building process easier for Joel, but they key to his member relationships is making members feel like they're understood.
"I want to make them feel that they're being heard," he says.
"When you're having a conversation with somebody, sometimes, it's going in one ear and out the other. So just making them feel understood and hearing what they're looking to accomplish and listening are really important to me."
Joel grew up in Brooks, Alberta and has been in the credit union system since he was a kid. His father was Vice President at a connectFirst credit union for 25 years.
"I've been in the credit union system since I was a young kid, so the values have been immersed into me," he says.
His father's career path inspired him to jump into finance himself, and working at the same company as his father is one of Joel's biggest accomplishments.
If you can't tell from his quarterback reference, Joel is a big sports guy. Hockey was his life growing up in Brooks. He played for his town's junior hockey team when he was 16 and played for the Drumheller Dragons, before getting a scholarship to play for University of Alberta's hockey team.
Joel says there are many parallels between hockey and finance.
"I think my success in in business - my professional side, has been because of hockey. My competitive nature, relationship building and being able to talk to anybody and being out there – hockey definitely helped me get to the success I have," he says.
"You get more of a 'home atmosphere' when you come into credit union. We know everybody by name. When members come in, you can have a conversation about them and their families. They feel comfortable being here." 
Brenda has been with connectFirst for 13 years. She started as a teller, then moved on to be a key part of our agriculture division, before joining our commercial team, where she does most of her lending through Drumheller, Hanna, Brooks and Bassano. 
Her dad was in the grain-buying business and it took her all over Saskatchewan and Alberta before she started her 30-year career in finance.  
Community and family are Brenda's driving purpose, and part of what drew her to connectFirst. "I always heard what a big happy family connectFirst was," she says. "And connect was always great with volunteering and out in the community, helping different organizations. I liked that and kind of thought 'maybe belonging to that would be good.'"
When Brenda meets with members from our communities, she goes out of her way to make them feel as comfortable as possible. "We're more personal with our members. We take more time to know who they are and we follow up with what they do afterwards," she says about the credit union difference. 
"You get more of a 'home atmosphere' when you come into credit union. We know everybody by name. When members come in, you can have a conversation about them and their families. They feel comfortable being here." 
Brenda shared that she recently ran into members at her local bottle depot, who she'd did financing for.  
"We started talking, and he said 'whoever would have thought that we'd stand in the line-up here and have a conversation with our banker, having 'every-day' talk,'" she says. "That's exactly what it is – I  want  people to be comfortable with me and to be able to trust me." 
Outside of work, Brenda volunteers regularly and spends most of her time with her two grandkids, Parker, 10, and Maddie, 9. 
"We just finished going to Medicine Hat Lodge a couple of weekends ago," she says. "I always take them once a year to a hotel with a big water slide. We went down there for three days, and we had a lot of fun," she says smiling.
While most kids want to be astronauts or firefighters when they grow up, Zubin wanted to be an investment banker.  
"I have a deep passion for finance." he says. "From a very early age, I was very fond with investments and stocks, and that led me down a path to learn more and more." 
Zubin has been with connectFirst for almost three years. He likes working in the credit union system because it gives members what he calls 'the benefit of the doubt.'  
While larger banks base lending decisions largely on credit scores, Zubin says connectFirst really gets to know members and their situations and factors those into the decision making. 
Outside of work, finances are still a big part of Zubin's life. His side hustle is investing, and one of his biggest accomplishments is his continued success with his investments. "What I'm happy about is my passion has led me to continually get better at my craft and master it," he says. 
In the past, I would kind of take on things and drop them, but I feel like with business and investment, it's been a long road that I've stuck with and I've tackled many obstacles."  
That's his biggest accomplishment for now, but he says it'll be trumped in September when he gets married. 
When he's not in the world of finances, Zubin like hiking, reading and is a self-described foodie, who's favourite YYC spots are Ten Foot Henry and Bridgett Bar. 
Small personal touches can make a big difference. No one knows this better than Jennifer. 
Jennifer recently met with a potential member looking to change banks. The potential member met with the big five banks and several credit unions, but Jennifer stood out. 
"She said I exceeded their expectations for member service and customer service because I'm the only one that had actually visited their warehouse and did a tour of the facilities," she exclaims.  
"It surprised me that none of the other financial institutions she visited did that. A little touch like that makes all the difference."
Building relationships with members brings Jenifer joy. It's not uncommon for members to stop by her house for a visit. "People stop by my house quite regularly," she says. "I have one member who's now family. If he ever gets married, I'm invited. His children love me and come over to my house - that's just kind of the normal."  
One of the best parts of Jennifer's job is helping members achieve their goals.  
"The most rewarding part of my role is working with somebody from start to finish - getting them on the path to their dreams," she says. 
"I started on the retail side of the credit union, and I worked with a member for a couple of years - just trying to get him to write his first home. That's the happiest part of the job for me." 
One of the first things you notice about Jennifer when you meet her, aside from her warm, friendly personality, is her vivid pink hair.  
She dyed it "for fun" during the COVID-19 lockdowns. "It makes people smile," she says. "And some people stare because it's uncommon," she laughs. 
Jennifer grew up in Winnipeg and moved to Alberta eight years ago. She's been with connectFirst for six years. Her career started in retail, but she moved into finance because she's always had a passion for numbers.  
When Jennifer's not working, you can find her baking. She's known for her delicious sugar cookies. "I spent a lot of time baking - Christmas is a big time for me," she says.  
She also has three pets who keep her busy. "I have a 14 year-old Miniature Pinscher. Her name is Pedzi, and she's an absolute sweetheart - she sleeps all day - and I have two tuxedo cats, Kiss and Lemmy. They were named after rock music bands," she says. 
Ferdinand's entrepreneurial spirit makes him the perfect fit as an independent business advisor! He runs three businesses of his own, which gives him a true understanding and insight into the entrepreneurs and visionaries he helps out at connectFirst. 
"I've been always dabbling with small businesses and own businesses as well, so it's almost like a perfect match," he says.   
"I've always loved that independent, entrepreneur life and I love the credit union system. This is a way that I could put my two worlds together." 
Ferdinand started as a Financial Experience Advisor at connectFirst, and worked in our mortgage department before joining our independent business team.  
He sees the relationships he has with his members as partnerships. "We are really in it for the long haul. We want to partner with you. You're not just a number - we want to get to know you personally, get to know your family personally. We want you to become part of the connectFirst family," he says.
Ferdinand is tremendously ambitious, but his ambitions aren't what you'd expect and are rooted in helping our members. "It's not about becoming the next CEO. For me, it's about building relationships and helping members grow. 
When Ferdinand joined connectFirst, members from the financial institution he previously worked at came over with him – a true testament to his relationship-building skills.   
"That's an accomplishment that means a lot to me – not just building a business relationship, but a lot of times, you build friendships that go way deeper than just being their banker. I think that's the biggest accomplishment for me. It's just like those lasting relationships," he says. 
Outside of finance, one of Ferdinand's greatest passions is fashion.  He owns a fashion business where he does wardrobe consulting, and he's involved in real estate and the auto industry as well.  
His interest in fashion started in Italy. Ferdinand grew up in Germany, and would visit Italy often. When he was a kid, Ferdinand says there was a tailor in a small Italian village who would make suits. They didn't speak each other's languages, but he would sit there for hours watching him.  
"Just watch him sew clothing - that's where I really found the passion. I always thought it was amazing how you take a piece of cloth and you make it into these beautiful sculptures. That's what I like to call it. It's an art, right?" he says. 
His greatest inspiration in life was his grandmother. "She's my biggest role model," he says. 
"I became everything I am because of my grandma."
Before entering the world of finance, Krystal got her start in the emergency room.
"I actually worked as an administrator at our hospital in the ER," she says.
"But I've always liked numbers, and that's what brought me to the credit union."
While the two might appear like completely different career paths, Krystal says working in the ER was a great stepping stone for her role at connectFirst, and there are many parallels, especially when it comes to helping out Albertans.
Krystal has been with connectFirst for more than three years, and her biggest accomplishments are the strong relationships she has built with her members. Relationship-building is the core of Krystal's role, and making her members feel important is her number one goal.
"I want to make them feel like they're heard - that we're actually listening and that we will do whatever we can to help them," she says.
"We truly care."
Krystal goes out of her way to assist her members anyway she can – and anytime.
"A lot of our Members work the same hours we do. Sometimes they're just not able to meet with us or to talk with us during business hours, So I'll work on the evenings, and weekends and make sure I'm flexible and can be around whenever they need me," she says.
When Krystal isn't helping members, she likes to spend time in Newfoundland.
"It's beautiful and my husband's family is from there. It's just so peaceful and they're the happiest people you'll ever meet," she says.
She also has a soft spot for animals and volunteers with a couple of dog rescue organizations, fosters dogs and has two dogs of her own.
"As a credit union, we're part of the community, we live here. We breathe here. We know what's happening, and we are also part of the economy. If our businesses thrive, we, as an economy, thrive. That's an advantage of banking with a credit union." 
Anika's 20-year career in finance has taken her across the globe, but Alberta is home. 
Born in Pakistan, Anika lived in Zambia, the Caribbean, and South Africa growing up. Her dad worked for the UN as a statistician to help end poverty, and his job took the family around the world. Anika returned to Pakistan for her bachelors and masters degree, before moving to Alberta with her husband. "This is where home is," she says. "We really like living in Alberta."  
Anika is one of our Independent Business Advisors and been with connectFirst for five years. "As a business banking advisor, we help businesses grow. We try and fulfill their needs and provide them with the best possible advice. If we're not able to do something for a business, we provide them with creative solutions and options after digging deeper into what their need is," she explains.
She's passionate about making a difference in our communities through her work. "at connectFirst, we make sincere effort trying to make a difference. We know our members and we live in these communities, and we care," she says. 
"As a credit union, we're part of the community, we live here. We breathe here. We know what's happening, and we are also part of the economy. If our businesses thrive, we, as an economy, thrive. That's an advantage of banking with a credit union."
When Anika's not helping Alberta businesses, she enjoys working out and restoring furniture. "During COVID, I think everybody picked up hobbies, just to get your mind off of things" she laughs. "I really enjoy getting old furniture from Marketplace and painting it and refurbishing it. I did that with my dining table and chairs." 
Anika and her husband have three kids – a 14 year-old, 13 yea-old and nin year-old. Nothing makes her happier than being surrounded by her friends, family and community. You know it's it's home for us, yeah? "I'm a very social person. having people around me is where I get all my energy from, so working  from home takes a toll sometimes, but  being around friends, and family and like-minded people makes me really happy."
It makes us happy that Anika is on our team! 
Sheila and connectFirst both share the same mission – to make money make a difference. 
"We're building a better Alberta," she says.  
"We want to invest into our communities, and we want people to come to us because the more members we have, the stronger we are, the be more dividends we can pay out, and the better we can make Alberta." 
Sheila has been with connectFirst for 25 years. She started as a teller and worked her way up, position from position, to where she is now, a Senior Independent Business Advisor.  
connectFirst's community involvement and approach to members is what drew her here.  
"I like that we are very community involved, that we put people first. We really still think about Members. We're not just a huge corporation where you're just another face. You have the chance to make a difference," she says. 
Her proudest accomplishment is winning a Mentor of the Year award.  
"It was voted on by peers and I was pretty proud of that because it wasn't just someone like my manager giving it to me," she says.  
"It really meant a lot to me." 
Sheila continues to mentor and helps train our new lenders. With her 25 years of experience, many new lenders turn to her for advice and reach out to her for assistance. 
Sheila truly gets to know her members and goes out of her way to make them feel like they matter. 
"They're a person, and I want to make them feel like they matter and everything they do matters. They're not just another number or file. I get to know their business and help them grow the way they need to," she says. 
Sheila doesn't just make a difference in the lives of members, she also helps out animals. She used to be a long-time volunteer at her local animal shelter and has two dogs and three cats.  
She's also a huge baseball fan. 
"I'll probably get shot because my favorite sport is baseball," she jokes. 
"My husband and I went to Boston for our 10th wedding anniversary to go watch some Red Sox games, and that's probably been one of the best vacations I've ever had." 
Sheila's love for the Boston Red Sox runs so deep that she even named her two kids after Red Sox players. 
When she's not keeping up with Red Sox games, she manages her kids' sports teams and volunteers in her community regularly.  
"I like to help out a lot, and I bring my kids too, so they can see that they should be doing this in their lives as well," she says. 
Like many Albertan families, Dale comes from a farming background. 
"We had cattle and grain – it was a full, mixed farming operation up until about 2003. After that, we rented most of our property out to other grain farmers in the area and sold our cattle - right before Bovine Spongiform Encephalopathy or 'Mad Cow Disease' hit." 
Dale always had an interest in financial services, and after working in insurance for a few years following farming, he joined connectFirst and has been with us for seven years.  
Dale's portfolio covers a variety of industries, including trucking and towing companies, heavy construction, senior housing, and self storage. However, the biggest part of his portfolio is commercial real estate. Most of his larger clients either own commercial warehousing or are in the residential real estate construction and rental industry. 
Dale has worked for us since 2014, but his ties to connectFirst go back a lot further. Dale's mom set up his first bank account for him at connectFirst when he was 10 years old!
Dale says his role at connectFirst is to make sure members' dreams and goals are met, and he always has their best interests at heart.  
"I want them to feel heard and understood. I want them to know that we are looking after their best interests. It's not always about us making a dollar. It's important that we do the best job that we can for our members and meet their needs." 
Helping members is a long-term game for Dale. "We want to know, not only what our current members are thinking, but what their business will transition to 10, 15, 20 years down the road. They might be passing it on to their kids, whatever that looks like. So, it really comes to a point where you you're talking about generational," he explains. 
Building strong relationships with members is an integral part of Dale's work and helps him develop trust. "I have members I talk to every couple of weeks about what's going on in their operation. I've met their kids, I know what their families are doing," he says.  
"When you're dealing with someone's finances, especially large dollar amounts, they have to be comfortable knowing that that their trust isn't misplaced in you." 
Life's not all about work for Dale though! When he's not working, you can find him spending time with his family.  
"My oldest son lives in Vancouver. I have a middle son that lives in Calgary, and then I have my youngest son still lives at home with us," he says.  
"My oldest son came home from Vancouver a couple of weeks ago to get engaged, and to have all three of them back in the house together, at the same time, really sparked a lot of joy for me. You know, having the family together? That's what really makes me happy." 
Victoria helps bring Alberta business owners' dreams to life.
She has almost twenty years of credit union experience, and building relationships with members is at the core of everything she does.
"When I meet with members, it's about building a relationship. It's not transactional," she says.
"I want to make members feel like I truly care, like they matter, that I'm here for them."
Victoria makes members feel like they belong. So much so, that when she joined connectFirst last year, members from her previous financial institution followed her here.
She exemplifies the credit union difference and is passionate about supporting our local communities.
When she's not helping members and supporting her community in Medicine Hat, you can find her golfing or cooking. You may even be lucky enough to try her famed homemade perogies – she's been know to share them with members sometimes 😉
Helping members is Kris' biggest motivator.
"When you help them either start their business, or grow their businesss, or buy something they've been waiting their whole life to do – that's the most rewarding part of my job," he says.
"That's always the fun part - when you can see them be successful."
Kris has been in the credit union system for more than 20 years, and he is a strong supporter of banking on local.
"There's been a huge push and focus on acting local and buying local, and that's what we are as a credit union – we're more involved in our communities," he explains.
"Just having that local focus, especially in some of the rural places, where a lot of the banks are gone or have left, and we've stuck around. That's what sets us apart."
When Kris isn't helping members, sports are a big part of his life. He plays hockey and baseball, and he coaches his son's teams.
"My free time is spent  either playing sports, watching sports or coaching or watching my boy play sports," he says.
Barry helps members bring their business dreams to life, and watching members take pride in their businesses is the most rewarding part of Barry's job.
"The best thing about the role is being able to go out and see a member's place of business, getting toured around, and seeing the pride and joy of what they've managed to build up, and just sharing that with the Member," he reflects. "It's definitely the best part."
Barry has been in finances for an incredible 20 plus years. connectFirst's member focus is what drew him here.
"We want to see these people succeed," he says.
"That's why we want to form great partnership. When our members succeed, that means we're succeeding at the same time, so it's a win-win scenario."
When he meets with members, he want to make them feel heard.
"It's the opposite of the mentality of going to a fast food restaurant, where people just walk up and tell you what they want, and you say you sure, and then you give it to him."
"Versus, what I like to do is say, 'well, tell me about your story and then, together, we can understand what the best solution would be'."
When Barry isn't helping members succeed, you can find him on his deck with a glass of red wine.
"I have a fairly good cellar of red wine," he says.
I build on it a little bit every month or so. I belong to a couple of wine clubs and I love California reds."
While making members' dreams come true makes Barry happy at work, quality time with friends (with some wine of course) brings Barry joy outside of the office.
"Sharing a good bottle of wine with friends and sitting with a glass wine out on a deck in the sunshine makes me very happy," he smiles.
Darrell provides advice to our members and helps support their small business needs. He does everything - from advice around structuring loans, to tailoring entire banking packages to making a business member's life easier. 
Darrell has an incredible 27 years of banking experience.
"I've been in my banking all my life. I love numbers and I'm a people person - it just jives," he says.
Not many people can say their job is what they wanted to do when they were a kid, but Darrell can.
"I knew all along I wanted to be a banker. In a grade three yearbook, where you wrote what you want to be in the future, I once said I wanted to be a banker," he says.
Darrell has a genuine love for his job and finds helping members deeply rewarding.
"I just love to interact and to help members be successful," he says.
He likes to make his members feel comfortable. He understands that it can be intimidating for members to meet with financial institutions and goes out of his way to make people feel at ease and help them out any way he can.
"I try to make people feel very comfortable, and there are no dumb questions. I mean it. Let's work together," he says.
"We're trying to help them, not hinder. Just being a human being and listening to what their issues are and helping them with those.
Outside of connectFirst, Darrell is a small business owner himself.  He built a start-up online streaming auction business in the early 2000's and was the owner and operator of a Chamber of Commerce Small Business of the Year award-winning dog kennel, daycare and grooming business. Running his own successful businesses  gives him a true understanding and insight into the entrepreneurs and visionaries he helps out at connectFirst. 
As a small business owner, supporting local is important to Darrell and it's something he admires greatly about connectFirst.
"Many of the chartered banks are about that bottom line. And if Alberta is not sexy this month, they're  okay to leave and not really be there for you," he explains.
"Whereas here, our mandate is Alberta. We're here for the long haul, and we are going to make sure that we help people succeed in Alberta."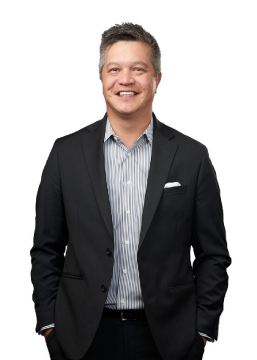 Brett Roessel
Mobile Mortgage Advisor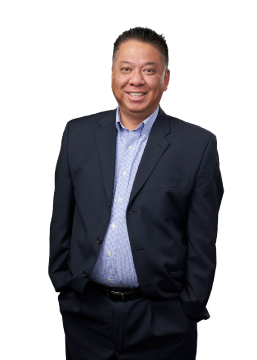 Peter Ma
Mobile Mortgage Advisor
Brett assists families with the biggest financial decision of their lifetime as a Mobile Mortgage Advisor.
With 25 years of finance experience and a best-selling book under his belt, we think he's pretty qualified.
Brett loves sharing his knowledge. He's always been a giant advocate of financial literacy – whether it's mentoring high school students, guiding members through the mortgage process, or sharing how to win at the money game.
He teaches everything from the big 'b-word' (budget) to how to make money work for you, instead of working for your money through the beauty of compound interest.  He also makes you aware how credit becomes your financial reputation for the rest of your life.  
He's also a published author. His Amazon best-selling book, "My Big Asset," simplifies the home-buying process.
Brett is a relationship-builder. He spends time getting to know our members he works with on a more personal level and goes out of his way to provide them with valuable information to help guide their decisions, leaving them with a sense of relief.
"After meeting with me, they might not be relieved from the hard 'yes' they initially wanted, but they're relived in the sense that they are leaving the meeting with more information than they began with, so they can make better educated decisions," he says.
Brett is a born and raised Calgarian and a huge sports enthusiast.  He loves hockey, golf and fishing.   "If you ask me what colour I bleed, I'll say Calgary Flames red," he says.
Peter helps make Albertan's homeownership dreams come true as one of our Mobile Mortgage Advisor.
He has been in finance for more than 30 years.
"I started as a bank teller in my university years, and it just evolved," says Peter.
Peter has been with connectFirst for almost 4 years and loves introducing his clients to the credit union difference.
"A lot of new members coming in for mortgages aren't familiar with the credit union network. I take joy in explaining the benefits – how we're member-owned, share profits, and we're a place where people can bank where they belong," he says
When Peter isn't helping Albertans become homeowners, one of his biggest passions is travel. 
His favourite spot? Japan. He and his wife travel to Japan almost every year. 
"It's the culture that captivates my wife and I. We enjoy the food, we enjoy the scenery - everything is so new," he exclaims. "It's just very friendly there, even though I don't speak a word of Japanese," he laughs.