Let's get started opening you a
Simple Save Account!
Experience a new, brighter way to bank for Albertans. Sign up is easy and will take less than 10 minutes.
Before you get started, make sure you:
Are 18 years of age or older
Are a resident of Alberta
Have valid government-issued photo ID
Are using this account for personal use, and not a third party*
It pays to be a member.
We share our profits with our members. Banks don't. When you become a member, $1 will be set aside from your initial deposit as a common share but you will have the option to invest up to $200,000 into your common share account at anytime so that you can earn more. This is just one of the many perks of membership at connectFirst.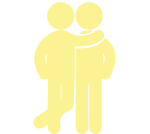 Want to share your account with someone else who is new to connectFirst?
You will need to have the following details about the person handy during your application if you choose to do this:
First name
Last name
Date of birth
Email address
Mobile phone number
Already started?
Existing member?
To protect your privacy, we recommend using a private device and IP Address to complete your account application. If you need to use a public or shared device please remember to completely log out of your application account if you need to step away. You can log back in at any time and resume your application where you left off.
*A third party is an individual or business who provides instructions on the activity or financial transactions related to that account. A joint account with your spouse or children would not be considered a third party. To open an account for a third party, please book an appointment.