Welcome to The Simple Mortgage – the straightforward, no-nonsense solution for your mortgage needs. With this five-year fixed-rate mortgage, you can rest assured that you will be paying the lowest possible rate we could offer.
Fixed rate. You'll be locked-in with a 5-year fixed-rate which ensures you have predictable payments over the term of your mortgage, helping you plan and budget with confidence.
5-year term. Having a 5-year term gives you peace of mind that if rates go up at all during that time, you'll be protected with a fixed-rate mortgage.
High ratio or conventional. You have options, depending on how much of a down payment you can make. A conventional mortgage requires a down payment of at least 20%, while a high-ratio mortgage requires a down payment of less than 20% and will require mortgage default insurance through our partners at CUMIS.
View rates ➜
Let's talk ➜
A lower rate means more in your pocket.
A mortgage rate that is even slightly lower can save you thousands in interest payments each year, which also lowers your overall monthly payment! Even half a percent can make a huge difference.
Compare payments ➜
Let's talk ➜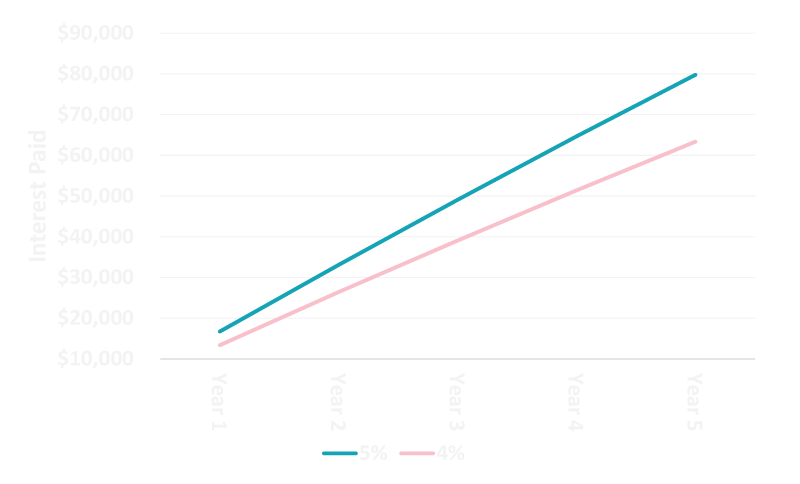 Not the product for you?
We think one of these might suit you better.
* Lending and product terms and conditions apply. Rates subject to change without notice. Calculations shown are for demonstration purposes only and do not represent our current or future rates and terms of the Simple Mortgage. Calculations for this graphic and information were based on a $350,000 mortgage loan at a 5% and 4% interest rate, and may not reflect everyone's unique financial picture.